Jane's Accessible Wetroom
Shower Space
Transformation for Independent Living 
Services Delivered
Planning, Design, Consultation, Surveying, TechnicalAdvice, ProductTraining
Jane moved into her new home in Salisbury a year ago. She was keen to transform her bathroom into an accessible showering space which accommodated her mobility needs, as well as complementing the contemporary design style throughout her new property.
A modern, level-access wetroom, combining spa-style luxury with comfort and accessibility was just what Jane needed.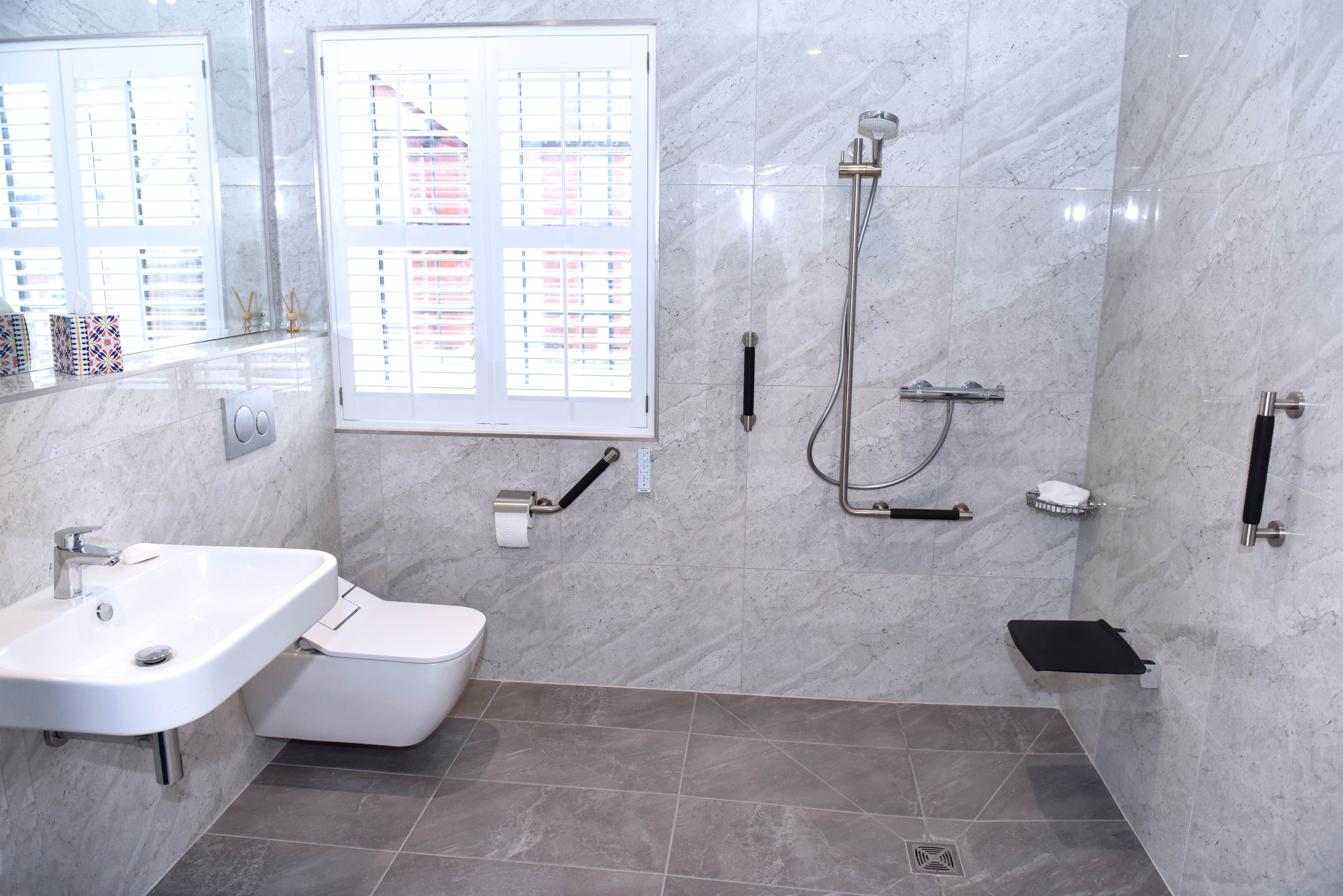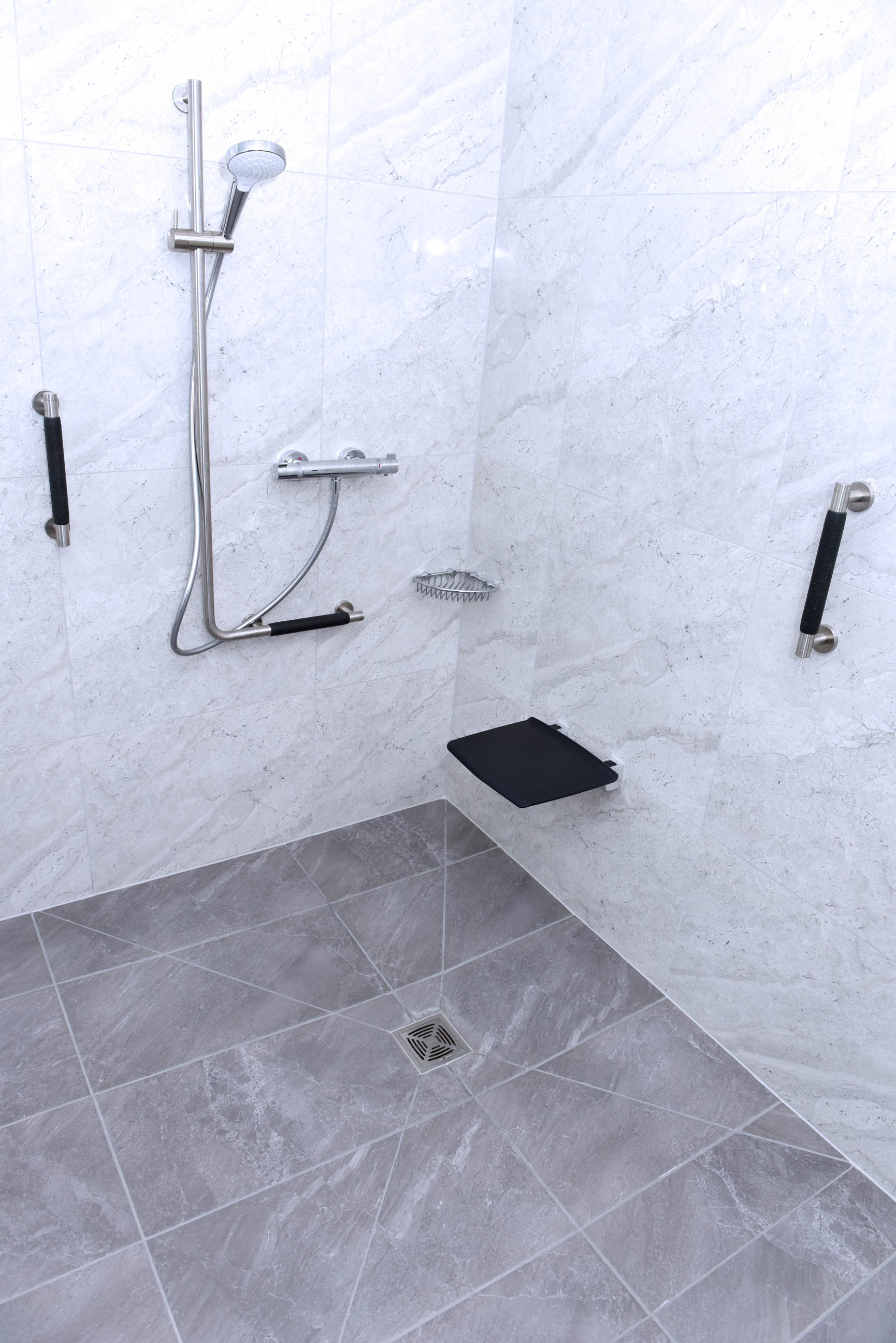 Overview
When Jane moved into her Salisbury home, a new showering space was immediately at the top of her wish list. With a traditional bath proving inaccessible due to her mobility needs, Jane desperately needed a showering space which would fit in with the rest of her home and allow her complete showering freedom.
She visited bathroom designer Gary Nutting at Wave Bathrooms for advice on achieving an accessible and modern showering space, perfect for independent living.
Project Planning
Design-conscious Jane was keen to ensure that her new shower room would fulfill her desire for an attractive and up-to-the-minute space.
Permitting Jane the independence that she needs, without looking institutional was key.
Jane and Gary explored options for layout, accessibility, shower seating and grab rails; ensuring that each of the elements was compatible with a design-led and modern showering space. Together Gary and Jane planned a light, airy open-plan wetroom, which allows Jane access on foot or in a wheel chair if needed in the future.
Jane's Wetroom Solution
The bathroom in Jane's new home wasn't big enough to accommodate a wetroom which would be suitable for wheelchair access. With space and accessibility a key requirement, the decision was made to locate Jane's new wetroom in one of the property's spare bedrooms. The open plan layout of the wetroom design which Gary created offered immediate spaciousness and ideal convenience for Jane.
As a key consideration, the space was also futureproofed so Jane would be able to use a wheelchair, should the need arise in years to come. The large, minimal shower space offers the perfect area to accommodate a turning circle, meaning that manoeuvring around the space is as easy as possible and the level access nature of the wetroom floor removes any potential trip hazards.
The choice of clean, bright tiles and modern, wall hung sanitaryware also ensure that the room feels instantly lighter and more expansive, as well as guaranteeing that the space is easy to clean.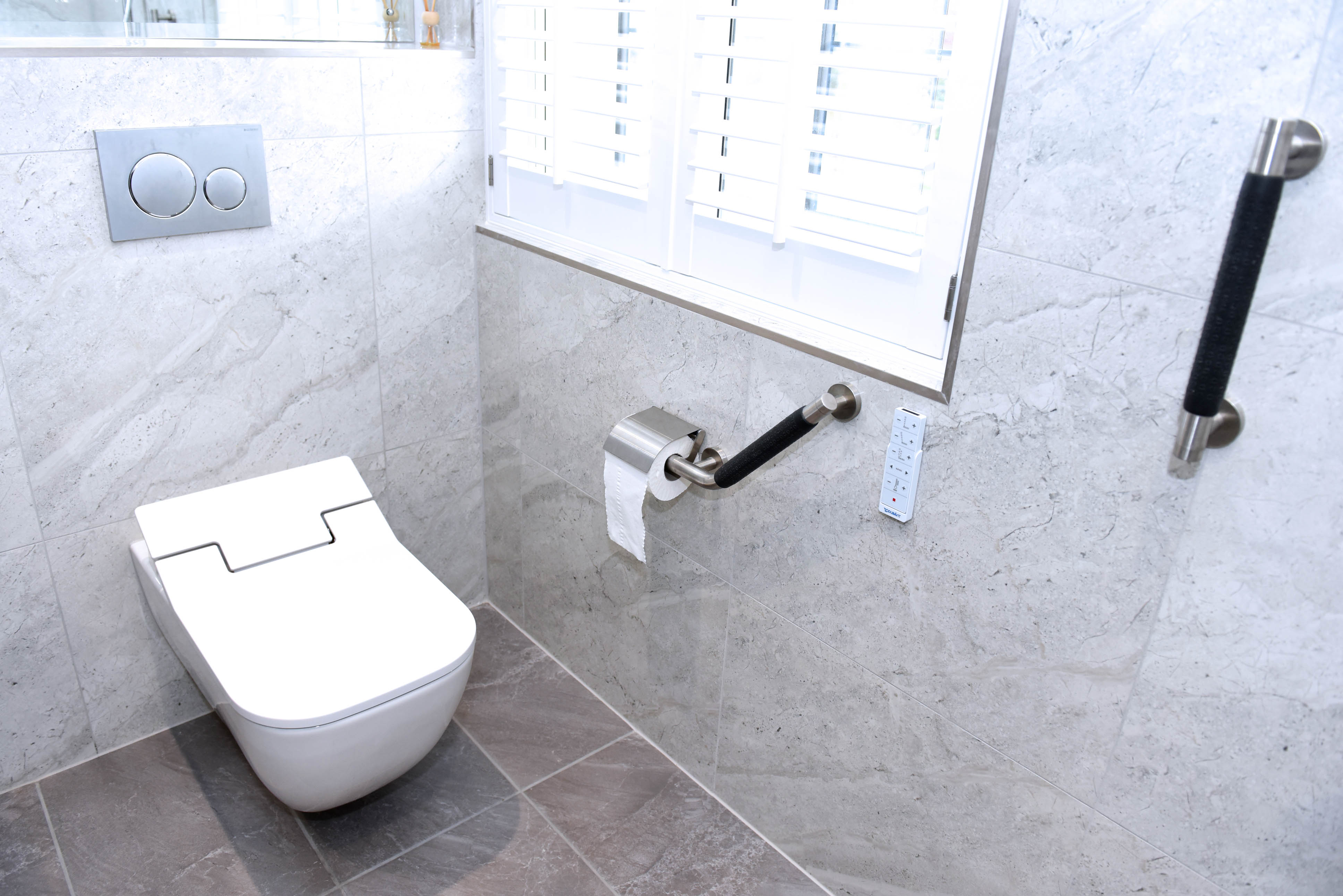 My new wetroom space is everything I had hoped for and more. It's practical and accessible and I feel safe and supported when I am getting in and out of the shower
Jane, Home Owner
Gary's Verdict
"Jane couldn't be happier with her new wetroom. The Impey EasyFit floor former and the Impey WaterGuard waterproofing system which we opted for in this conversion offer complete peace of mind, not only for me as a specifier, but also for Jane as a homeowner."
"The accessories that Jane selected have added the perfect finishing touch to the space and it has come together as a beautiful and useable wetroom."
Jane's Verdict
"My new wetroom space is everything I had hoped for and more. It's practical and accessible and I feel safe and supported when I am getting in and out of the shower."
"What is more, I didn't have to compromise on style to get the modern wetroom that I really wanted." "I have recommended the Impey product range and the Boston Comfort and Safety accessories to all of my friends and family, who have all been inspired by the transformation of my new wetroom space."
• Architect / Design Consultant Gary Nutting at Wave Bathrooms
Approximate system build up used on this project
• Aqua-Dec EasyFit
Let Wave Design Your Next Dream Bathroom
Take a look through our site and let yourself be Inspired
Book a Free Bathroom Consultation Today!
Customer care
Excellent Customer Care from National Award Wining Showroom
Installation
Wave Bathrooms offers a Installation Service with a professional team of bathroom fitters
Aftercare
You can have complete confidence in our aftercare and support.
Award winning
Wave Bathrooms KBB Customer Service of the Year Awards WINNER 2015
Dedicated team
Our design consultants will visit you at home or site to discuss your requirements
Creative design
Our expert designers are trained to plan any type of bathroom, irrespective of size or shape
2015 Customer Service Of the Year Award Winner
Wave Bathrooms of Salisbury, has been announced as a winner at the biggest awards event in the kitchen and bathroom industry, the kbbreview Retail & Design Awards.
The award, which was presented at the black tie gala dinner at the London Hilton on Monday 16th March, was won in the Bathroom Customer Service of the Year category.